Best Vehicle for more than 10 people for Outstation Trips
Outstation trips are the best way to create new memories by exploring new places with friends or family. However, planning an outstation trip for a large group is challenging, especially when selecting a vehicle.
Yashika Tour and Travel understands this challenging decision and offers an ideal solution- the Force Tempo Traveler. It is a spacious, and comfortable vehicle that can accommodate up to 10 people. With comfortable seating and air conditioning, it is perfect for long drives. The Tempo Traveler is also reliable and fuel-efficient, making it the perfect choice for outstation trips.
Force Tempo Traveller promises comfort and a pleasant ride. Hiring a force tempo traveler with a professional driver gives you the flexibility to leave for your trip on time and hassle-free rides. Let's delve into the numerous features that make the Tempo Traveller the best choice for group travel on outstation adventures.
Why Choose a Tempo Traveler for Your Outstation Trip?
There are many reasons why a Tempo Traveller is the best vehicle for outstation trips with more than 10 people. Here are just a few:
Space and comfort
Tempo Travelers are designed to be comfortable for long journeys. In Tempo Travelers you will get enough space to sit comfortably and relax. They also have large luggage compartments, so you can quickly bring everything you need for your trip.
Features
Tempo Travellers have a variety of features that make them the perfect choice for long-distance travel, such as air conditioning, reclining seats, and entertainment systems.
Safety
Tempo Travellers are considered safe and reliable vehicles and come with all the safety features such as seat belts, air conditioning, and GPS navigation.
Affordability
Tempo Travellers are the most affordable option when you are traveling with a large group. The cost per person for a tempo traveler is lower than all the other modes of transportation.
Book Tempo Traveler in Noida with Yashika Tour and Travels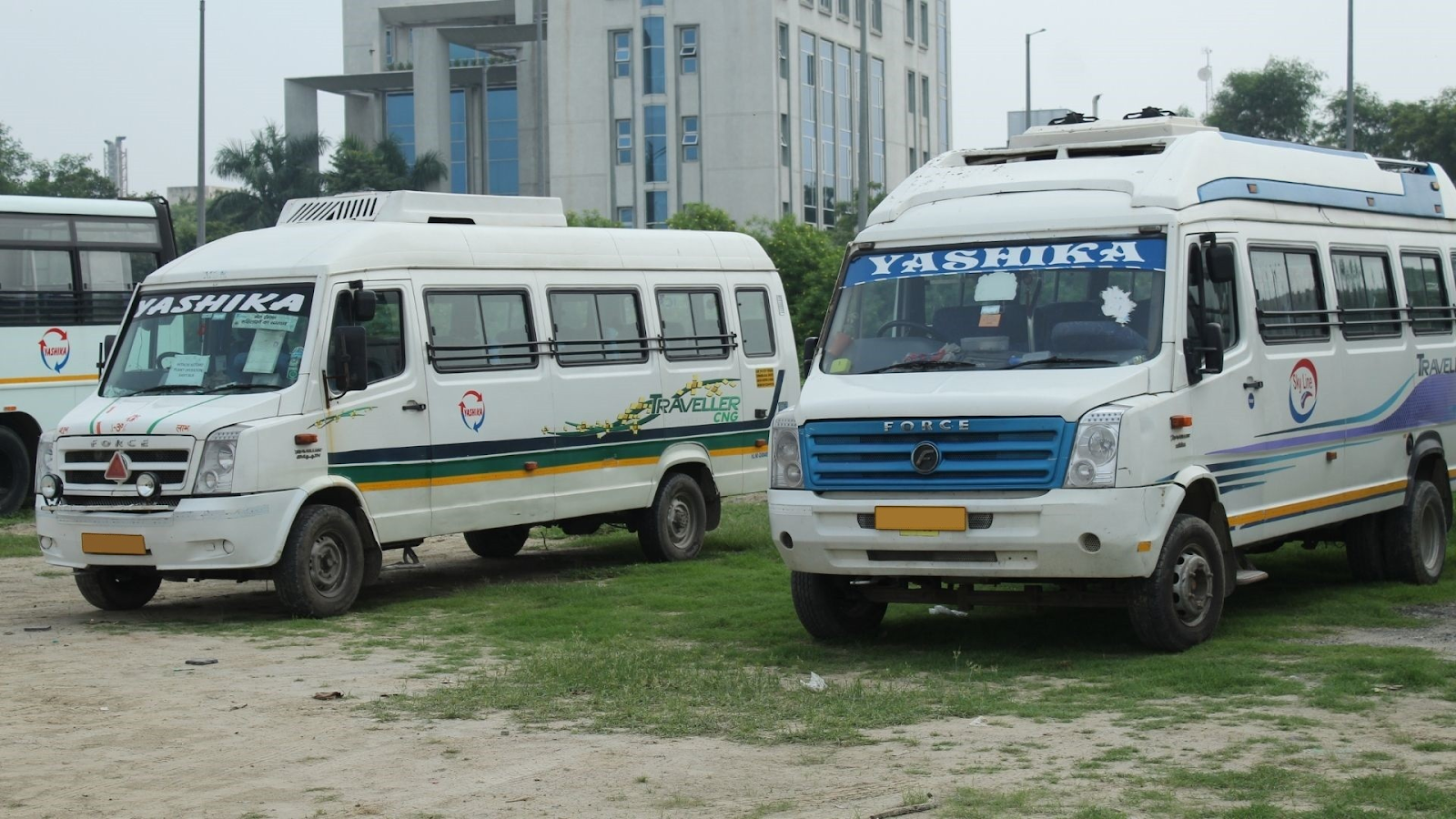 Yashika Tour and Travelers offers a wide range of Force Tempo Travelers. So you can choose the one that fits your budget and choice. Our force tempo travelers are well-maintained and have all-new features such as comfortable seats, air conditioning, and entertainment systems.
Our professional Tempo Traveler drivers are experienced, qualified, and certified to provide you with a safe and comfortable ride. They are familiar with all routes and traffic conditions, so you can sit back and relax.
We offer competitive prices and provide hassle-free booking and payment procedures. We also offer a variety of amenities to make your trip comfortable and convenient. Book Force Tempo Traveller in Noida, Greater Noida & Ghaziabad with Yashika Tour & Travels, at affordable and budget-friendly rates. Whether you are traveling with friends, family, or business clients
Our available tempo travelers in Noida are:
12 seater tempo traveler
16 seater tempo traveler
20 seater Maharaja tempo traveler
25-seater tempo traveler
Benefits of Booking a Tempo Traveller from Yashika Tour and Travels 
When you book a tempo traveler from Yashika Tour and travel in Noida, you will get the best possible services and all the benefits including,
Competitive prices
We offer competitive prices on all of our Tempo Travellers. It makes a perfect choice for economical travelers.
Wide selection of vehicles
We have a wide variety of Tempo Travelers, so you can select the tempo traveler according to your choice and budget.
Well-maintained vehicles
All Tempo Travellers at Yashika Tour and Travels are well-maintained and regularly serviced. It ensures that your journey is safe and comfortable.
Experienced drivers
We have a team of experienced and professional drivers who have a good knowledge of all the routes so you can sit back and enjoy your trip.
24/7 Customer Support
Yashika Tour and Travels is committed to providing excellent customer service 24 hours/7 weeks. Customers can reach the team at any time if they have questions about their booking.
Transparent billing
Yashika Tour and Travels offers transparent billing with no hidden costs. This means you know exactly what you are paying for before you book your Tempo Traveller.
Conclusion
When planning an outstation trip for more than 10 people choose a tempo traveler from Yashika Tour and Travel guarantees that you have a comfortable and memorable travel experience. From spacious sitting places to experienced drivers, you will get all the best possible services from us. We value customer satisfaction and ensure that your journey is the same as you imagined.
Book a tempo Traveler today from Yashika Tour and Travels and enjoy peace of mind knowing that we'll take care of everything.
Frequently Asked Questions
How to book a Tempo Traveler in Noida? 
Visit the Yashika Tour website or call them to provide your travel details and book your preferred tempo traveler.
What are the different types of tempo travelers available at Yashika Tour and Travels?
Yashika Tour and Travels offers 4 different types of tempo travelers including 10 seater, 12 seater, 20 seater, and 25 seater.
Can I book a tempo traveler for a one-way trip from Yashika Tour and Travels?
Yes, we offer both one-way and round-trip tempo traveler rentals.